公司新闻
Adecco集团2015财年Q3业绩表现强劲
2015-11-10
Adecco集团近日发布了2015财年第三季度(Q3)财报,业绩依旧表现强劲。
财报显示
■ 营收同比上涨9%,由上年同期的51.9亿欧元增长至56.7亿欧元
■ 毛利润同比上涨13%,由上年同期的9.54亿欧元上涨至10.8亿欧元
■ 毛利率由上年同期的18.4%略微上涨至19%
■ 息税折旧及摊销前利润(EBITA)同比上涨18%由上年同期的2.75亿欧元上涨至3.26亿欧元

按区域来分析
■ 法国区与北美区营收同比均略微上涨1%,分别达到12.59亿欧元、11.86亿欧元,该区营收占总营收的比例分别为22%与21%
■ 英国及爱尔兰区营收与上年持平为5.86亿欧元,该区营收占总营收的比例为10%
■ 日本区营收略微上涨2%达到4.49亿欧元,该区营收占总营收比为8%
■ 澳大利亚及新西兰区营收同比上涨4%达到9,200万欧元
■ 新兴市场营收同比上涨16%达到5.65亿欧元,该区营收占总营收的比例为10%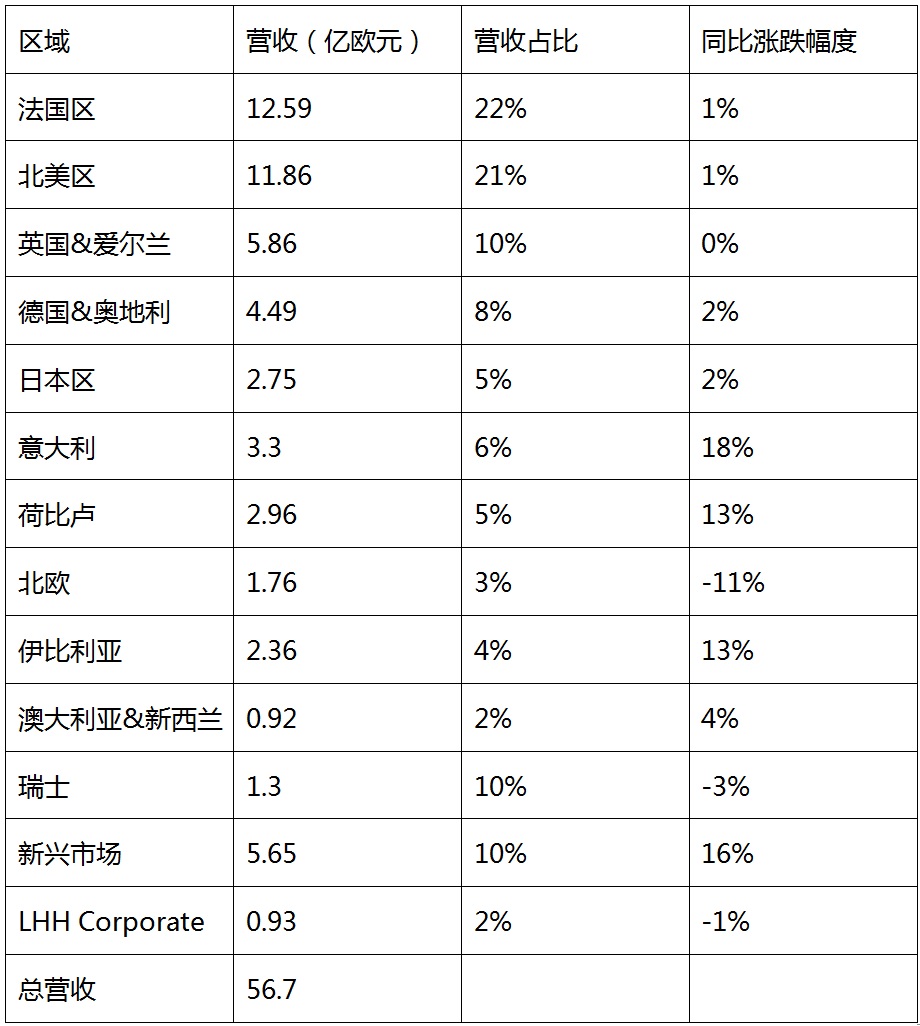 The Adecco Group, the world's leading provider of Human Resources solutions, announced results for Q3 2015. Revenues were EUR 5.7 billion, up 4% organically compared to the prior year. Gross profit was up 5% and SG&A excluding one-offs was up 2%, both organically. The EBITA margin excluding one-offs was 5.8%, up 40 bps compared to last year.
Alain Dehaze, CEO of the Adecco Group said: "Thanks to the efforts of our more than 32,000 colleagues and around 700,000 associates around the world, we delivered another excellent operating performance in the third quarter with further strong operating leverage. Southern Europe, Benelux and Emerging Markets continue to achieve very good revenue growth, while growth remains modest in our large markets in Western Europe, the USA and Japan. As previously stated, reaching our EBITA margin target of above 5.5% in 2015 depended on an acceleration in revenue growth in the second half of the year. In H2 2015, our organic revenue growth continues to be steady but is not accelerating sufficiently to achieve the EBITA margin target. Adecco will still deliver very strong profitability in 2015. With our continued commitment to price discipline, cost leadership, tight capital management and EVA, we remain confident that we have many opportunities for sustainable profitable growth in the coming years. Adecco has a very solid foundation in its excellent people and strong market positions, and we look forward to continuing to build on this to drive further success in the future."

In France, revenues were EUR 1.3 billion, up 1%;In North America, revenues were EUR 1.2 billion, an increase of 1%.In the UK & Ireland, revenues were flat at EUR 586 million. In Germany & Austria, revenues were EUR 449 million, up 2%. In Japan, revenues were EUR 275 million, up 2%.In Australia & New Zealand, revenue growth was 4%, with an EBITA margin of 1.0%.In the Emerging Markets, revenue growth accelerated to 16%, with double-digit growth in Latin America, Eastern Europe & MENA, and India. The EBITA margin for Emerging Markets was 3.7%, flat year-on-year.